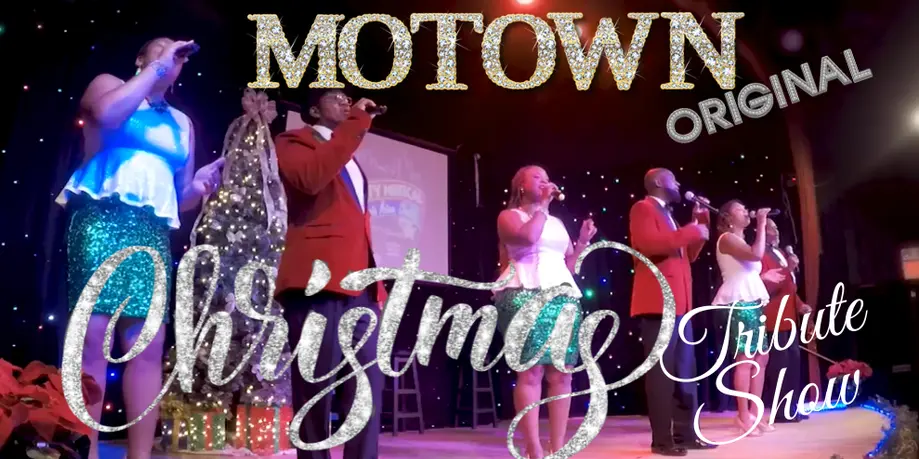 All Ages • 2 Hours • Enjoy an Evening of Soulful Entertainment!
VIP Platinum - $46.95 + tax
All ages • Barrel chairs & cocktail table - reserved seating (Sorry - The Chair Limit is 300 pounds) NO DISCOUNTS FOR VIP
Gold Adult - $42.95 + tax
Ages 15 and up • Plush Blue Banquet chairs & cocktail table. Reserved seating
Gold Child - $14.95 + tax
Ages 3-14 • Plush Blue Banquet chairs & cocktail table. Reserved seating
Bronze Adult - $39.95 + tax
Ages 15 and up • Black Banquet Chairs ONLY. Seated in order of arrival (Last 1/4 of theatre)
Bronze Child - $14.95 + tax
Ages 3-14 • Black Banquet Chairs ONLY. Seated in order of arrival (Last 1/4 of theatre)
Red Adult - $39.95 + tax
Ages 15 and up • Plush Red Banquet Chairs, No Table, Reserved Seating
Red Child - $14.95 + tax
Ages 3-14 • Plush Red Banquet Chairs, No Table, Reserved Seating
Infant - $0.00 + tax
0-2 years old
The original Motown tribute show!
Duration
2 hours
About
Enjoy an evening of soulful entertainment, as you embark on a musical journey through the history of Motown, a genre that broke down social barriers and infused music of the 60's and 70's with life and rhythm. Tap your feet to the music as the story unfolds with the history of Motown. Motown crushed barricades, changed lives, and had all of America moving to the same beats. Follow one man's dream that turned into everyone's music. Bring your courage and sing along with the entire show, featuring hits from all the musical titans of the 60s and 70s. Including all your Favorite Christmas hits featuring Diana Ross's Happy Xmas War is Over, Joy To The World, Give Love on Christmas Day and many more!
This incredible cast is ready to entertain you for 2 hours of Soul Music & Holiday Music.
This musical cabaret revue features dynamic and exciting performances. Prepare to start "Dancing in the Streets," celebrating the music and musicians of a powerful era, including Diana Ross, Gladys Knight, Stevie Wonder, Temptations, Marvin Gaye, Jackson 5, Four Tops and many more!
Booking Notes
FAQ
DRESS CODE: Casual Dress is fine as you are on vacation. However, at our Motown Show people tend to dress up with Business Casual or Better.
WHAT DOES GTS STAND FOR? GATSBY - The theatre décor is Art Deco.
I HAVE FREINDS JOINING ME ARE WE SEATED TOGETHER? If you have not booked your tickets together please do not expect to sit together. The computer system has no idea who your friends are, nor does our staff. If you have made the notation on your reservation we will do our best to seat you together but it is always not guaranteed.
WHAT HAPPENS IF THERE IS A HURRICANE or TROPICAL STORM WARNING? If there is an WARNING or EVACUATION ORDER in place all shows are cancelled and everyone that booked directly with the theatre is issued a gift card to return within 2 years. If there is NO WARNING or EVACUATION ORDER - Shows go on as scheduled.
IS THIS THEATRE INDOORS? Yes, we get this question asked all the time. We are an indoor venue. Our theatre is kept at a comfortable 69 degrees year round.
IS DINNER SERVED? We do have a snack bar with limited snacks (popcorn/candy bars) and drinks are available. We do not provide dinner. Our focus is on our exceptional entertainment. Please seek dinner at one of our many Myrtle Beach restaurants prior to show arrival. Allow extra time as restaurants in the area are short staffed.
DO YOU SERVE ALCOHOL? No we do not serve hard liquor. However, if you purchase a souvenir cup for $5 it does come with a complimentary Beer, Wine, Soda Pop or Water.
WHY CAN'T YOU SEAT LATE ARRIVALS? When you enter the theatre you enter through the front doors. When you enter the showroom, you are entering between the stage and VIP section. We can NOT stop the show or disrupt our guests that have arrived on time for late arrivals. Be early and enjoy the incredible shows at GTS Theatre.
CAN I RECORD THE SHOW OR TAKE PHOTOS? Absolutely No Audio or Video Recording during the shows. Violators will immediately be escorted out of the show and no refund or gift card will be issued. Please make your guests aware of our policy as well. You CAN take a photo without the Flash. We do have cast photos for sale in the Snack Bar.
BE KIND TO OUR STAFF: We are all here to provide you a memorable night of exciting entertainment. Please be kind as most of our support staff are seniors and here at GTS we respect our elders.
ALL BAGS ARE SUBJECTED TO SEARCH PRIOR TO ENTERING OUR SHOWROOM: We do not allow any carry-ins such as Food, Drinks or Weapons. We are searching bags for your safety during your time at GTS.
LEAVING THE SHOW EARLY: If you must leave early please seek out one of our employees to help you with exiting the theatre. Please do not get up and just walk out as this disrupts the show and the audience. Please WAIT until the show is over to leave the theatre. We are a small cabaret venue and you will not have the traffic headaches as you do in the larger venues. Please be respectful.
PLEASE PLAN AHEAD and ARRIVE ON TIME.
The GTS Staff and Entertainers appreciate you and thank you for your cooperation
Health and Safety Policy
Currently there are no mandates in place, however we reserve the right If there is a surge in the virus in our area, you may be required to wear a mask. This policy can change from day to day depending on the virus. We appreciate your patience and kindness during these times as we are always looking out for our customers and our entertainers. We at GTS Theatre continue to wipe down and disinfect all area's for customers. We have upgraded our air filtration system to M.E.R.V. 13
Stay Healthy and Stay Safe!