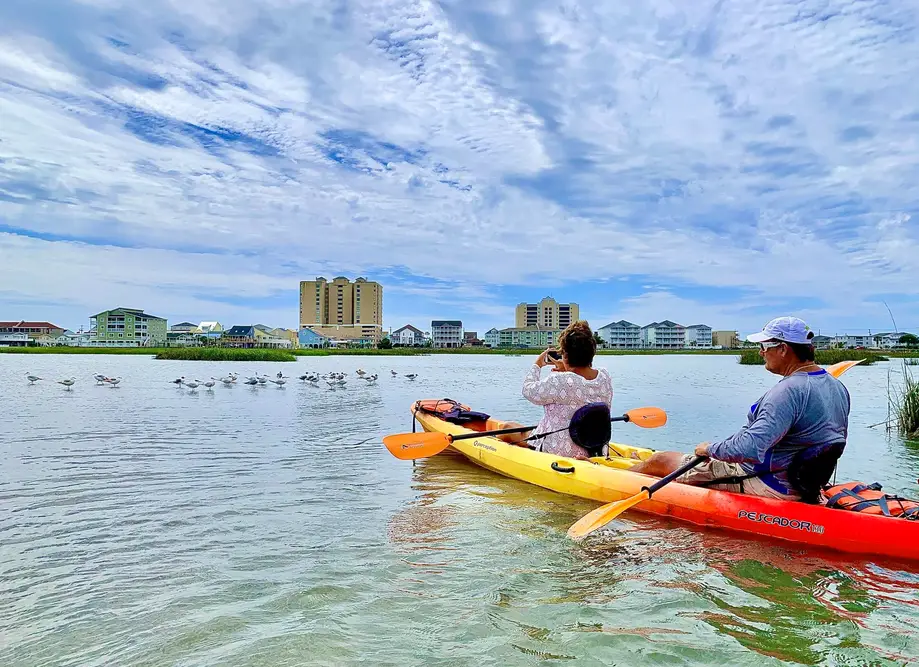 2 hours • ECO-Immersive Scenic Kayak Tour
Kayak the most beautiful places in North Myrtle Beach.
J & L Kayaking is the original kayak experience in North Myrtle Beach. We have cultured every detail of kayaking in this area to fit the beginner up to the experienced paddler. J & L Kayaking was the first kayak experience in the Cherry grove area and started over eight years ago. Our experience of providing eco-tourism by kayak and paddleboard is unmatched. Our guides are very knowledgeable of the area and wildlife you will likely encounter during our tours. Since our beginning, eight years ago, we have grown to be the #1 ranked kayak eco-tourism in the area. Throughout our history we have always made sure to maintain our "Mom & Pop" atmosphere and show each of our guest the individual attention they deserve. Take a tour with us and kayak in places only J & L kayaking can provide. Listen as your guide shares their knowledge with you about our area. We look forward to having you join us on a kayak adventure soon.
-Justin & Laurie
WS Tarpon - $35.00 + tax
*Max Paddler Weight 275lbs* • Includes 1 Person • 12' Premium Kayak • Guest over 12 years of age
WS Pungo - $35.00 + tax
*Max Paddler Weight 325lbs* • Includes 1 Person • 12' Premium Kayak • Guest over 12 years of age
Tribe Tandem - $60.00 + tax
Includes 2 people • 13.5' Perception Kayak • 500lbs Max Weight
This is our signature tour. We escape the crowds and travel along a scenic path with fun twist and turns.
Trip length: 2 hours
Recommended to:
Nature lovers, families with teen children, couples, adult groups, those looking for an escape from the crowded beaches.
Trip Includes:
Tour Guide, Kayak, Paddle, PFD (Personal Flotation Device), Water, Narration of habitat and history of the area.
Please note: Gratuities are not included.
Trip Highlights:
Scenic, Bird and other marine life, 2 hours of scenic paddling, calm waters, explore narrow creeks
Description:
Our Cherry Grove scenic tour is a perfect option for those looking for a trip with more kayaking. This tour will lead you through a maze of winding creeks with gentle currents. Our scenic tour often times will bring you real close to many of the native coastal bird species. Your tour guide will guide you along and talk about the local flora and fauna and explaining how our tidal flood lands benefit our ecosystems. Listen in and keep a watchful eye for the birds. It is not uncommon to have some of our larger bird species to take flight right in front of you while paddling along the narrow winding creeks. This is one of the best options for those looking for a little more sight seeing and paddling!
Close bird encounters are quite common on this tour. Your guide will identify many different bird and plant species of air and sea during your tour and teach you about their colaborative efforts in making this harmonious ecosystem thrive.
Booking Notes
Recommended Items to Bring for your Adventure:
Hat
Sunglasses
Sunscreen
Towel
Footwear you don't mind getting wet
Extra Water
Snacks
Bug Spray